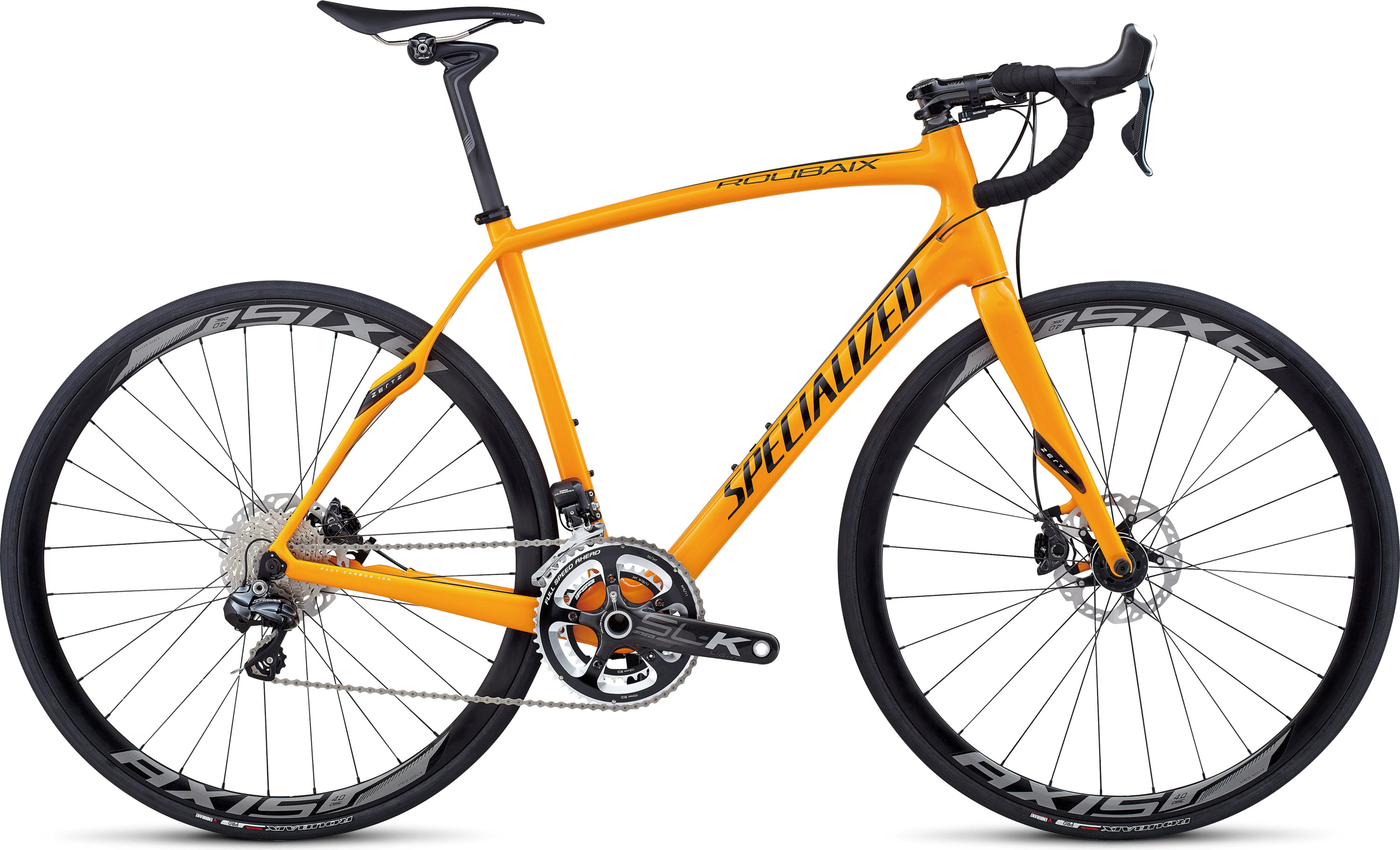 I know you are looking at this picture and thinking to yourself Man does that bike just look fast! Well with the geometry, components, and the FACT Carbon 10r frame all you have to worry about is getting your motor revved up to make her fun as fast as possible!
This is the
Specialized Roubaix SL4 Expert Ultegra Ui2 Disc bike
!
Smoother is faster. The more comfortable and less fatigued you are at the end of a 4 hour ride, the stronger you'll be. Like shocks on a race car, the Zertz vibration damping inserts on the Roubaix SL4 help absorb road impact and keep power planted firmly on the road - couple that with a FACT carbon 10r frame and it's still plenty stiff to thrash around in a sprint. Just ask four time Paris-Roubaix champion Tom Boonen
Specialized SL4 FACT 10r disc frame with Zertz is fast and smooth, with incredible light weight, size-specific engineering, and tapered headtube; FACT carbon fork with Zertz has size-specific engineering to create a more balanced and stable ride for riders of different sizes

Specialized Roubaix Pro 23/25c is fast like a competitive tire, but features unique casing technologies for added comfort and puncture protection

New Shimano hydraulic disc brakes provide the precise performance Shimano is known for, paired with Shimano Di2 STI shifters, renowned for their race-ready performance and exceptionally consistent shifting in all conditions

Romin Expert Gel saddle, with hollow Ti rails, delivers the same ergonomically designed, scientifically-proven Body Geometry features that allow riders to deliver power in high-performance positions

The revolutionary CG-R post features 18mm of vertical compliance and Zertz vibration damping, while FACT carbon construction delivers unsurpassed comfort, control, and efficiency without adding weight or complication to the frame
For more information on this beautiful race bike stop by the shop and set up a test ride once this "lovely" weather clears out! Have a great weekend and be safe out there.
MSRP $6,800.00
Tentative
EVENT SCHEDULE
is up at the website. Check out our upcoming 2014 events and pre-plan your schedule!
Tom's Pro Bike Service
3687 Walden Avenue
Lancaster, New York 14086
Phone: (716)651-9995
E-Mail Us:
tom@tomsprobike