All-City has two update Disc Models - The Macho King and Nature Boy Disc Bikes. They are highlighted in the
FOLLOWING ARTICLE
. As an owner of a Single Speed Nature Boy these bikes are out of this world awesome, come from a great design background, and can be ordered in for you by Tom's Pro Bike.
As we stated in past blogs Fabian Cancellara is prepping for a run at the One Hour Record and here is an
INTERVIEW and ARTICLE
if you want to hear his thoughts on the attempt.
45NRTH is coming out with a
Dillinger 5
for your fat bike. It will be available with studs or without. They are a great tire from all of the reviews I have read but a bit pricey. If you are looking for studded protection on the fat bike this is the tire to go with!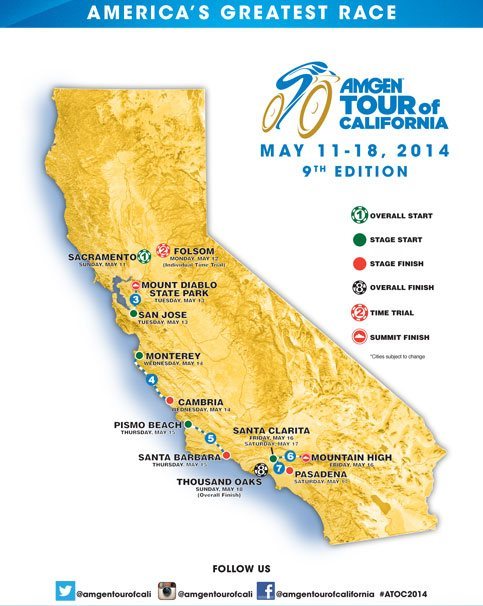 Amgen Tour of California
route has been announced. This year the route goes North to South and looks like it has some great scenery on the routes it has chosen. I would love to see the Mount Diablo climb and Thousand Oaks finish because of the topography but all look to be challenging as always.
Everyone is talking about the
cobbles coming back to the Tour de France
and everyone is setting up early season training rides in the area to test equipment for the upcoming stage. Maybe once the weather breaks we should all meet downtown and do some cobble rides so we can understand what the big boys are going to be going through come July!
Tentative
EVENT SCHEDULE
is up at the website. Check out our upcoming 2014 events and pre-plan your schedule! Our first Maintenance Clinic March 12th is now open for registration
HERE
.

Don't forget if you are contemplating the
XTerra Syracuse
to let us know if you are interested in joining a training team at Tom's as well.
S-WORKS 2014 Spring Clearance Sale
! In-Stock Merchandise only!
Tom's Pro Bike Service
3687 Walden Avenue
Lancaster, New York 14086
Phone: (716)651-9995
E-Mail Us:
tom@tomsprobike