Last Wednesday I posted this picture as part of the
Weekly Bike News update
and with the Giro D'Italia happening and the Amgen Tour of California starting up this past Sunday I figured I would go the route of a pro racer TT bike.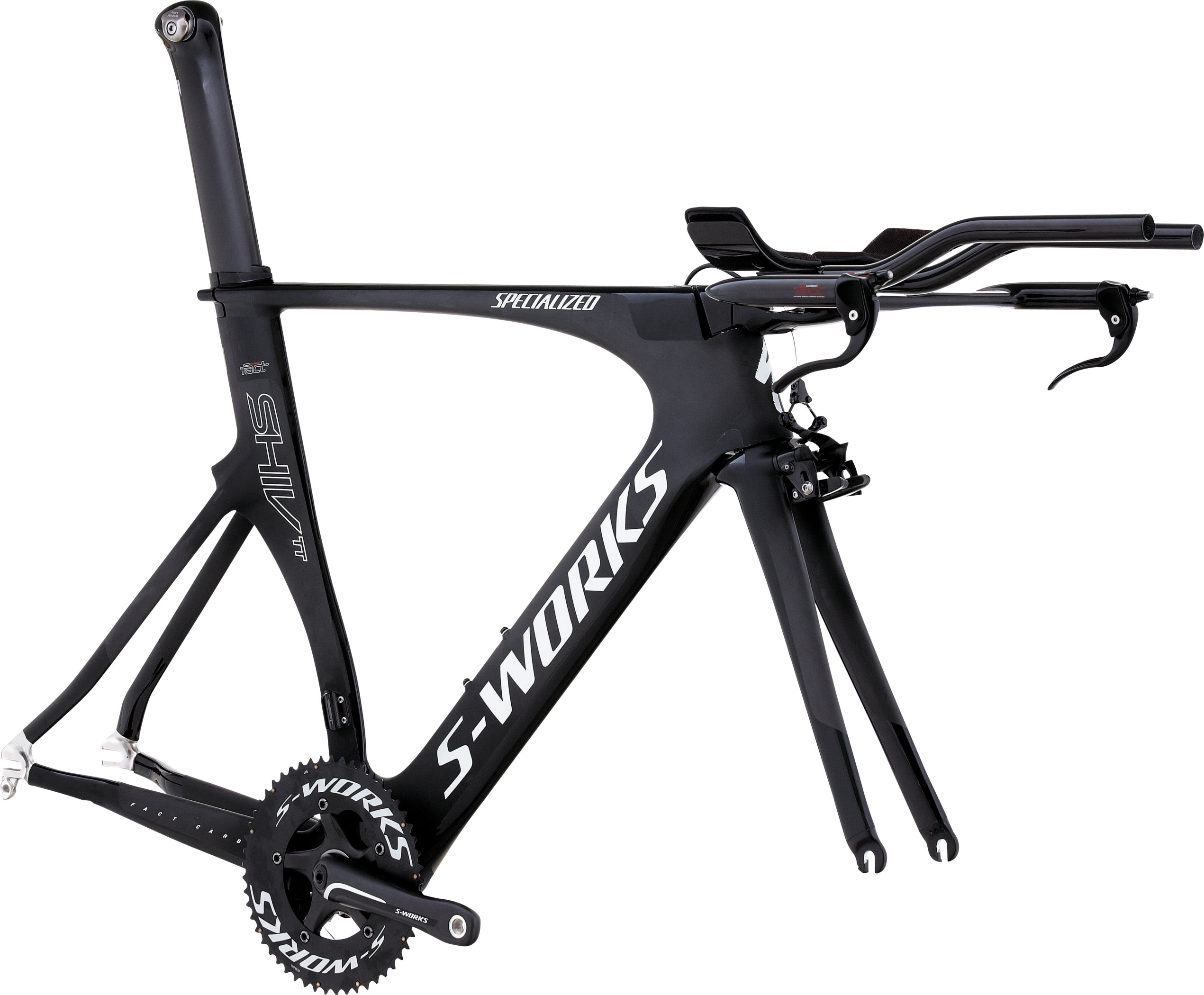 Stiff, light, and incredibly aerodynamic, the Shiv TT has won World Championships in both Time Trial and Ironman Triathlon. And, being completely UCI- and triathlon-legal, it's the perfect choice for any race against that clock.
UCI-Legal S-WORKS FACT 11r carbon frameset, features a fully integrated cockpit, aerodynamic tubeshaping, and OSBB for the ultimate blend of speed and stiffness in a timetrial bike

S-Works FACT carbon monocoque fork with crosswind-optimized airfoils is stiff and stealthy for precision steering and max speed

Specialized S-Works FACT carbon crankset with OSBB, removable carbon spider, and ceramic bearings has incredible stiffness-to-weight for max power and TT-specific rings

Specialized's UCI-legal handlebar, integrated with the new fully-adjustable Shiv TT stem to provide stiff and light link to the fork steerer

S-Works FACT carbon bladed seatpost is UCI-legal, and incredibly aerodynamic and stiff; two setback options for optimal fit

Shown brake levers are not included in delivery
FRAME: Specialized FACT 11r carbon, UCI-legal aero tube shapes, FACT IS construction, OSBB
FORK: S-Works FACT carbon, full-monocoque, UCI-legal
HEADSET: 1" upper and 1-1/8" lower Stainless Steel cartridge bearings
STEM: S-Works Shiv TT Aero
HANDLEBARS: S-Works Shiv TT carbon Aerobar
FRONT BRAKE: 3 Aero Integrated
REAR BRAKE: Aero integrated
CRANKSET: S-Works FACT carbon with TT rings
BOTTOM BRACKET: Ceramic Speed, OSBB integrated ceramic, 30x42x7mm
SEATPOST: Shiv Aero, FACT carbon, 400mm
SEAT BINDER: Integrated w/ frame
NOTES: Chainstay protector, derailleur hanger, clear coat, owners manual
If you are looking for a top of the line speed machine then come on in for a fit to make sure the Shiv fits your body geometry and put your order in. If the professionals race this bike then you know it is made to go fast! To set up the fitting and get the ball rolling stop by the shop, give us a call, or send us an e-mail.
Specialized Spring Classic Sale extension is still on through the end of May if you are looking for a Carbon Race Bike from Specialized!
Lancaster, New York 14086
E-Mail Us: tom@tomsprobike.com
Web Site: http://www.tomsprobike.com/