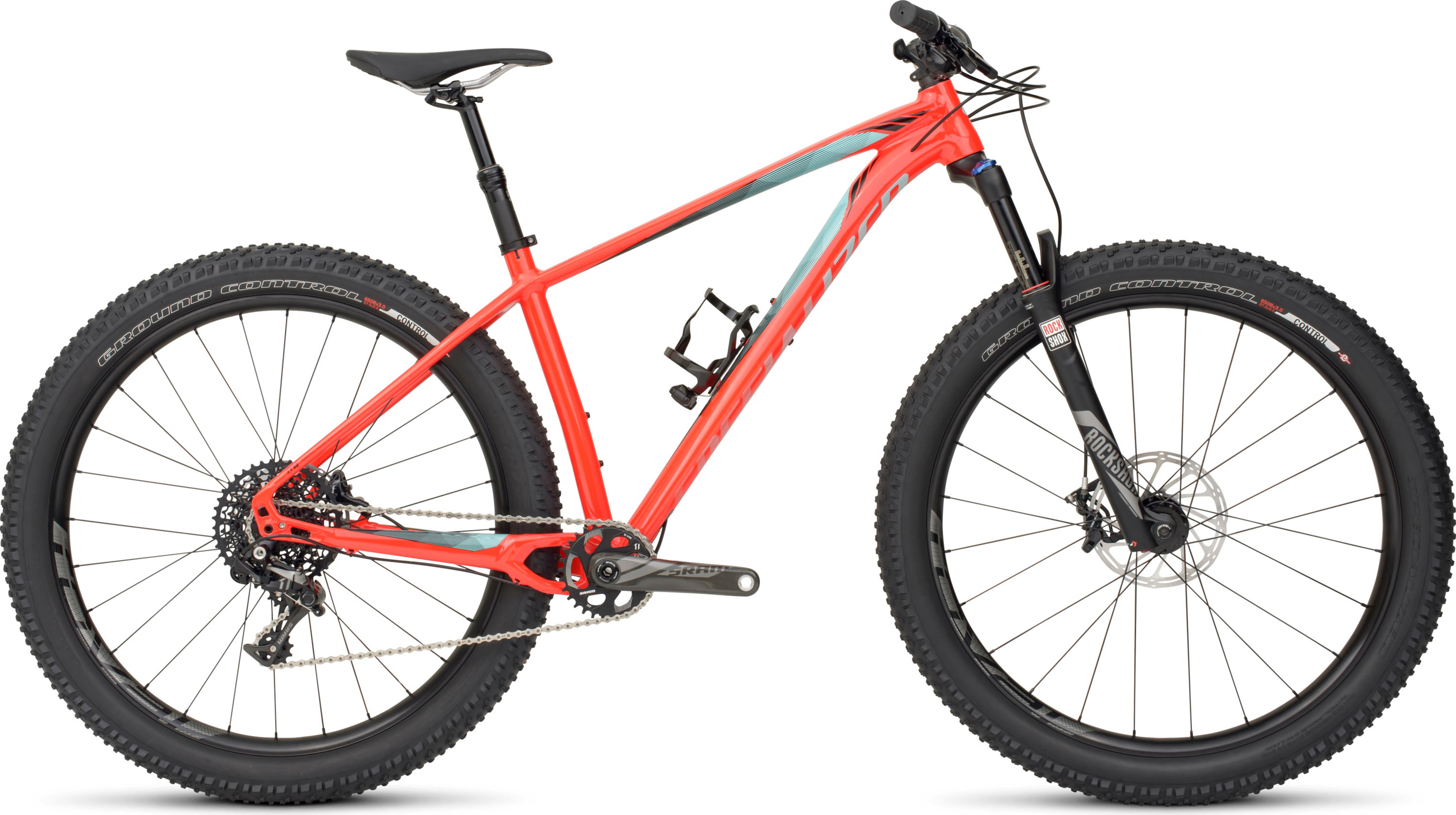 Well since we all snuck off mountain biking last night at Sprague Brook (There were 8 total in the WNYMBA group and we saw many more on the trails) I figured we would do a Mountain Bike post. And what better bike than the new

2016 Specialized Fuse Pro 6Fattie

:
The Fuse Pro 6Fattie is the next step in the evolution of trail riding. Now we know that sounds bold coming from a hardtail, but with our all-new 6Fattie Wheel System, the Fuse puts out more traction, more floatation, and better handling, all without sacrificing anything to efficiency. And when teamed-up with a low and slack geometry that keeps you glued to the trail, and our exclusive Diamond Stay design that keeps the chainstays as short as possible for snappy handling and quick accelerations, that "bold" statement above becomes undeniable fact.
M4 Premium Aluminum proved to be the right material for the job, allowing a lightweight, durable frame with a low and slack geometry that's equal parts snappy and efficient on climbs and descents. It also allowed us to incorporate our exclusive Diamond Stay that accommodates the 6Fattie wheels/tires without compromising on our hallmark short chainstays that provide unrivaled handling and climbing prowess.

A RockShox Reba RC3 650+ fork was developed to deliver 100/120mm (size-specific) of plush, trail taming travel, while accommodating 15x110mm thru-axles for reliable handling and durability over rough, bumpy, or loose terrain.

38mm-wide Roval 650b wheels are hand-built to provide the perfect tension and a longer lifespan, while an ultra-wide alloy design allows for higher tire volumes that decrease deflection in order to provide more stability and increased traction.

650bx3.0" 6Fattie Ground Control tires feature a perfectly sized contact patch for life-changing levels of traction and control while cornering, all without sacrificing climbing efficiency or descending prowess.

SRAM's S-2200 11-speed crankset delivers all the ease-of-use climbing and descending efficiency that a one-by setup is known for, but what we're most excited about is how seamlessly it interfaces with our exclusive Diamond Stay design and bottom bracket junction to form a smooth, natural, and intuitive ride quality.
MSRP is $3,100.00 - For more information on this great adventure bike stop by the shop today from 10-8. November days do not get much better than this for test rides!!!
Want a great way to stay in shape this winter? Sign up for a slot of our Indoor Training Series.
Indoor Training Series is on right now. Information

HERE

!
WE RENT FAT BIKES NOW
! Interested in trying out a Fat Bike without having to purchase one? We now rent the Specialized Fatboy at Tom's Pro Bike!